Step 1: Spirulina & Matcha Face Pack
Take a tablespoon of the face pack and add tea tree toner to it. Apply a thick layer on the skin and let it rest for 15 minutes. Wash off while gently massaging your skin for best results.
Step 2: Tea Tree Toner
Spray directly on your face to hydrate and refresh your skin. It can also be sprayed on a cotton ball and massaged into the skin.
×
Ready to checkout?
Here's a few more items we thought you'd like.
Clear Skin Combo
Refreshing Body Care Combo
Acne Vanishing Combo
Anti Acne kit
Customer Reviews
08/05/2021
Lavanya

India
Awesome
Perfect face pack for acne and pimples now I have zero pimpimples and black marks in my face . It also reduces the pimple black marks. Really an amazing product ,worth for price . I bought alevera gel ro check whether it's working or not it smoothens the skin and reduces the pimple marks but it won't reduce pimples , then I bought Spirulina mask and tea tree water it works amazing for pimples and acne within two weeks you can realize the changes.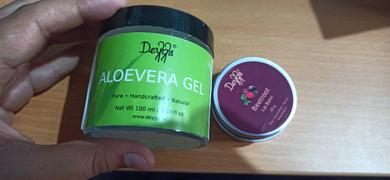 29/03/2021
Veda

India
Best one for acne prone skin
This pack is one of the best face pack for reducing acne and inflammation over time.. and it gave best results when used along with tea tree toner/ basil toner. I really love this product's quality and its soothing effect on skin. just a gentle scrub before washing it will be little more effective (do it only if acne bumps are not worse). Just 1.5 spoons of this pack is enough to cover whole face and neck as it increases in quantity when mixed with toner/water.
05/02/2021
Ishwarya

India
Good
Helps in reducing inflammation. But takes time to show results.